Mucilage!
Over a hundred years of natural sticking power with the simplicity of gum arabic and LePage has sadly decided to discontinue this non-toxic staple of classrooms the world over. People often email me trying to locate a source. Perhaps if enough people contact them directly, LePage will see fit to bring back this versatile craft glue.
Le Page's original fish glue has long since been replaced by chemical adhesives. Let's not lose this piece of history.




It saddens me to walk down the craft and back-to-school aisles of most major stores, these days. Not only is there no sign of the once ubiquitous bell shaped bottle, the shelves are dominated by all manner of Elmer's products. Boooo. Hissss. And not just glue. Glitter and foam sheets, too. Everything a kid needs to make fun stuff. LePage is still a strong force in the hardware department, of course, with a wide variety of strong construction grade adhesives, but what about the next generation? Wal-Mart, Grand &Toy, all the major supermarkets - all dominated by Elmer's.

My Great Great Grandfather started this business with great focus on eye-catching advertising, and for decades the name Le Page was synonymous with glue, no matter where you went. The company has long since abandoned advertising, focusing largely on PR (public relations). Ask the average American, and if they even recognise the name Le Page, they'll remember it as the glue from their youth, unaware that it's still in production. Or they might know the name as a maker of tape - made by the other LePage's. (The company split into 2, the American company and the Canadian company, in the 40's). But Elmer's is the name that comes to mind with most people when one mentions glue. And because there is no focus on the children's market, there will be no brand recognition or loyalty from the next generation.

Bring Back The Bell!

And now back to our regularly scheduled programming:

Move your cursor over the images for details.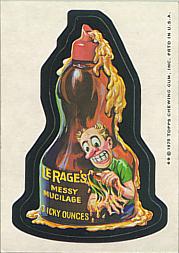 Take no chances - use Le Page's Glue


And then came the famous bell-shaped bottle...