Heir of Canadian-born 'Glue Czar' turns home into pop culture museum
Click here to view a slideshow of images from this story.
LePage's bell-shaped mucilage bottle was familiar to generations of Canadian school children.

Along with pencils, pink erasers and spelling books, it was standard issue for generations of Canadian students: a small, bell-shaped glue bottle that remained part of their learning experience from kindergarten through junior high.

And while it may be nothing more than a memory of bygone school days for many of those students, the little bottle with its red rubber tip still has special significance for Vanessa Le Page, a young Toronto artist whose family name has been synonymous with 'bonding' for 125 years.

"I remember being in grade school in the early 1970s, when every kid in every classroom had a bottle of LePage mucilage on their desk. I'd tell them it was my name on the label and that my great, great grandfather, William Nelson Le Page, started the company. Of course, they all thought I was making it up," says Vanessa, who shares some of her ancestor's traits, particularly his interest in the power of mass marketing.

Even as a child, Vanessa was intrigued by advertising and the way companies use colourful characters like Tony the Tiger to build brand awareness. "I was raised on TV, which might explain my interest in pop culture," she says. "As a kid I'd save box tops to send away for premiums, but I didn't start seriously collecting until 10 years ago. Then it sort of became an obsession."

From Pillsbury Doughboy to Fish Glue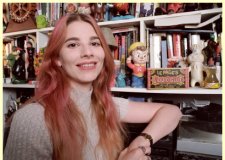 Vanessa Le Page, the great, great, granddaughter of glue company founder W.N. Le Page, with just a few of the 3,000 items of advertising and product memorabilia that fill her Toronto home.

And what an obsession: Today, Vanessa's Toronto home is a shrine-of-sorts to the pop images of the past 30 years. Characters she first met through television now reside on the shelves lining the walls of her living and dining rooms. Along with the likes of Snap, Crackle & Pop, the Pillsbury Doughboy and Count Chocula are characters and products based on such classic TV shows as Bewitched, Lost in Space, and The Partridge Family. All seem to be fighting for the attention they once enjoyed.

"I've really had to cut back on going after new pieces because I'm running out of room here," says Vanessa, who searches Internet auction sites for rare items, refusing to part with any of them. She estimates the size of her collection to be about 3,000 pieces. "I've lost track, but someday I'd like to catalogue everything and produce a book with my own special spin on it."

An ironic twist of fate happened to Vanessa shortly after getting her computer a few years ago. She noticed a fair bit of interest on sites like e-Bay for LePage memorabilia, from vintage glue and ink bottles to early ads and project do-it-yourself manuals.

"A light went on in my head, I realized my family name had become an enduring brand all its own," she says. "While I knew a few things about my great, great grandfather, there was a lot I didn't know about. So I started researching and came to appreciate his significance and the fame he acquired." She also started a separate collection of LePage items.

An early Captain of Industry

Born in Prince Edward Island in 1849, William Nelson Le Page's family moved to Massachusetts when he was still a boy. There he became a chemist and in the 1870s invented an industrial glue made from fish skin that was ready-to-use, extremely strong and had a long shelf life - all rare qualities for an adhesive at that time. Soon, he introduced a home version of fish glue and developed a line of new products under the LePage brand, including inks, lubricants and the familiar mucilage that's still in use today.

W.N. was also a trailblazer when it came to marketing, a fact the Vancouver Daily Province wrote about when he died in that city in 1919: "He placed upon the market mucilage and glue that bore his name and is said to have spent a fortune in advertising his products. In the pages of Harper's Magazine and in other popular journals he initiated advertising campaigns which startled the American public, and was among the forerunners of the great national advertisers of the present time." Between 1880 and 1887, LePage sold 50-million bottles of his glue worldwide - a fact highlighted in his ads long before a certain hamburger chain took up the practice.

LePage celebrates 125th anniversary

This year the company bearing W.N. and Vanessa's name turns 125, and continues to produce a vast array of popular adhesives and sealants. To help mark its anniversary, LePage is turning to people across Canada to help find pieces of the company's history that have gone missing over the years.

"When you're in business for such a long time, it's amazing how things like old products and ads can disappear," says Hugh Peddle, National Marketing Manager for LePage. "To help find rare items from our past, we came up with the idea of a contest, which I'm proud to say Vanessa Le Page will help judge."

Called the '125 Years of Adhesive Excellence', the contest will award $1,500.00 in each of three categories: product, advertisement and project book. These will be judged on their age, condition and rarity. Additional information about the contest and rules can be found at http://www.lepageproducts.com/contest/rules.asp

Click here to view a slideshow of images from this story.