Early Cakes - Vintage VLP
My First Shaped Cake. Ish.
My first attempt at a specialty cake, courtesy of a June 1983 edition of Seventeen Magazine!
This photo is actually from the second time I made the cake, two years later, when I was 15. I didn't get a picture of the first one, made for an end of the year grade 8 home ec. class party, the month the issue came out. This one was for an end of the year grade 10 art class party.

Little did I know then that the rolled fondant used in this recipe would soon become the bane of my existence!
Professional Firsts

My very first couple of drawings on cakes, soon after I started working at Dufflet's. The bug cake, with marzipan legs and antennae, was my first shaped cake, made off-hours for my boyfriend at the time. It was this cake that led to my first referrals; the teddy bear, in turn, being my first ever cake commission.


Award Winning Cakes

From 1990 to 1993, I entered a series of cake decorating competitions sponsored by The Canadian Society of Sugar Artistry and the Cake Decorator's Exchange Society, bringing home a series of 1sts, 2nds, and 3rds. The cat, my first entry, was docked points because they had assumed I had used a mould! Heaven forfend! The real mistake, however, was in using vegetable shortening instead of butter. Being on display for a considerable amount of time, I thought it might hold up better. It didn't take the colour well, and didn't smooth properly.


Miscellaneous Early Cakes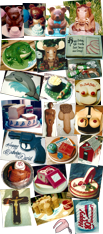 Rolled Fondant

The horror.... The only two cakes I ever covered with that stuff. Hated every last moment of it!
---
back
top
next
The Cake Lady - Edible Art by Vanessa Le Page &nbsp 1989-2019
30 #@¢%ing Years of Making One-Of-A-Kind Cakes For Your Special Occasions!
&copy2019 VLP